In a press release issued earlier today, we learned that a one-of-a-kind Porsche 918 Spyder Weissach was the vehicle that commanded the highest bid at the 2016 Mecum Anaheim auction which took place this past weekend in Anaheim, California. A crowd of Collector-car and Road Art enthusiasts gathered in sunny Southern California, placing winning bids that totaled more than $11 million. Overall, 308 vehicles and 221 pieces of Road Art were purchased.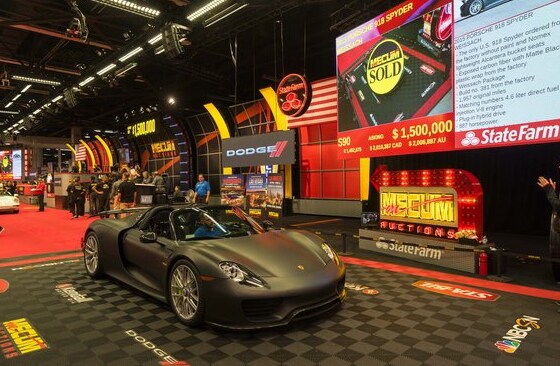 While a number of muscle cars, classics, and custom rides earned high bids over the course of the three-day event, none were even close to the 887-horsepower Spyder Weissach which went for a grand total of nearly $1.5 million at the final hammer. The second-place bid went to a 2006 Ford GT which went for a comparatively paltry $245,000. A 1975 Porsche 911 Carrera RS earned the third-highest bid at $200,000.
The next Mecum auction will be held December 1-3 in Kansas City, Missouri, where 700 vehicles will be offered. The auction house brings in the New Year in Kissimmee, Florida January 6-15. Boasting a 3,000-car lineup, it is the world's largest classic and collector-car auction.