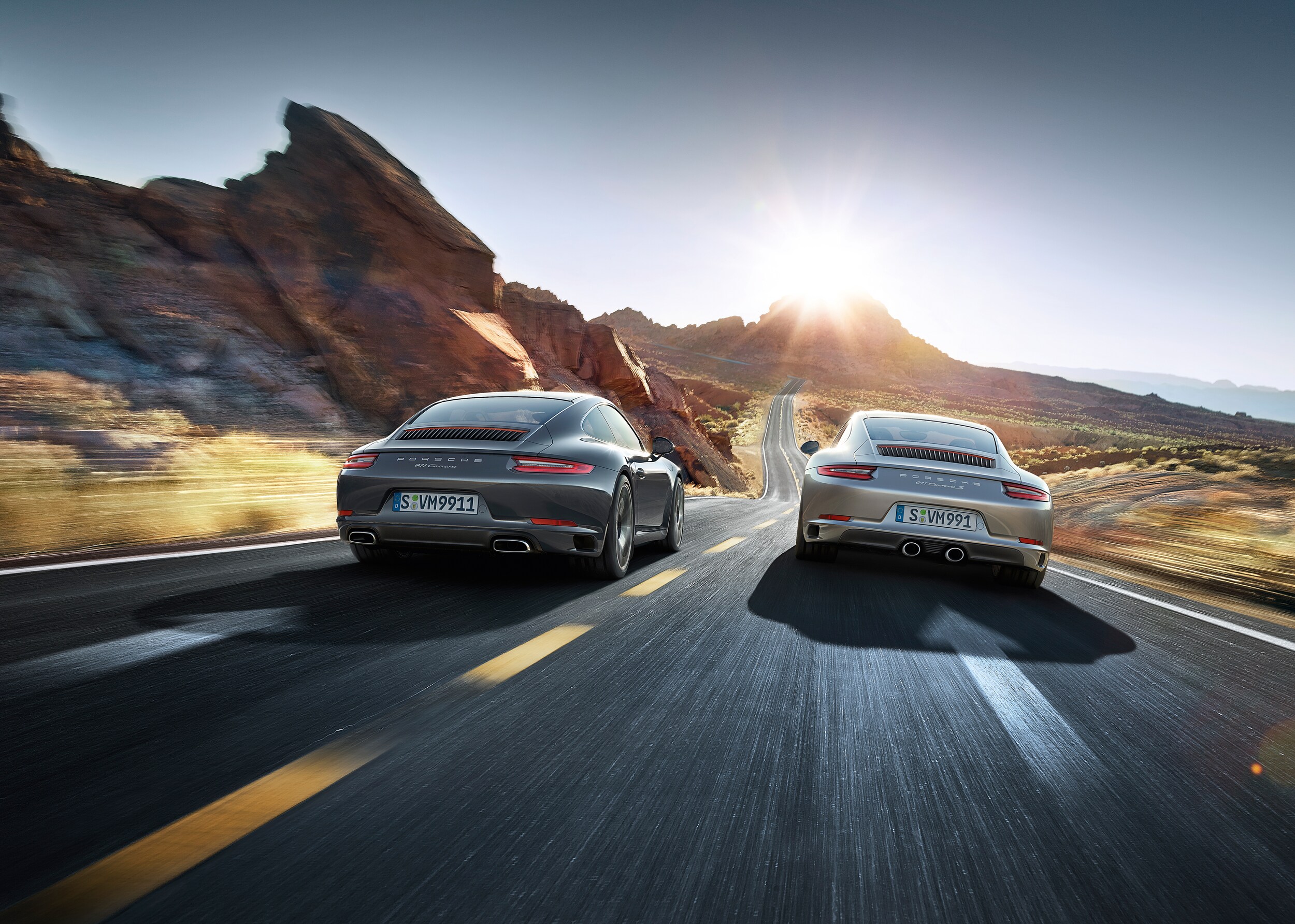 ?There's no way around it, the Porsche 911 is a classic a vehicle as you'll find on the road today, and the 2019 model adds more to the qualities (track-ready performance, comfort, style, etc.) that have made the luxury sports car so famous. There are a ton of different 2019 Porsche 911 models thanks to the many trim levels and three body styles that it offers, but each provides the power and razor-sharp handling the model is known for. We've highlighted several reasons why performance enthusiasts should consider the 2019 Porsche 911 with our info below!
Changes to the 2019 Porsche 911
With a luxury sports car as well-loved and iconic as the Porsche 911, you don't want to change too much about its nature when adding and refreshing it, and the 2019 Porsche 911 does an exceptional job of adding aspects without losing any. It sticks with the flat six-cylinder twin-turbo engine while upgrading the power output, and the Porsche 911 still offers a 7-speed manual transmission and the exceptional PDK dual-clutch automatic transmission, which shifts between gears outstandingly quickly.
Other changes to the 2019 Porsche 911 include the introduction of two new trim levels, the GT3 RS and GT2 RS, which have drivers looking for on-track fun in mind. The Porsche 911 GT3 RS has a non-turbocharged engine, which makes its 500 horsepower even more impressive, better aerodynamics, special suspension tuning, and materials to help it reduce weight. The GT2 RS has the same body as the GT3, but it comes with a jaw-dropping 700 horses, which you should really save for the track.
What Are the Different 2019 Porsche 911 Models?
The new Porsche 911 GT3 RS and GT2 RS will excite those drivers searching for cars they can bring to the track (those models also come with a stopwatch feature!), but they are just two examples out of 27! These many trim levels share several aspects, like the horizontally opposed engines and two-door styles, but the dimensions, top options, engine power, and look vary quite a bit between them all. Some set only two while others have room for five, but each comes with a ton of customization options so that your 2019 Porsche 911 is truly unique to you.
There are several naming tricks to consider when looking at all these 2019 Porsche 911 offers, which are:
Porsche 911 models with a 4 in their name, like the Carrera 4, have all-wheel drive instead of rear-wheel.
The Porsche 911 Targa models have a retractable hard-top while if Cabriolet is in the name, it is a soft-top convertible.
Most trims have a corresponding model with an S, like the Carrera and Carrera S, and the S means that it has a more powerful engine than the other.
What Will You Get with a 2019 Porsche 911?
That's a lot of info on the various 2019 Porsche 911 models and the changes to them, but we also wanted to overview just what it is that makes the Porsche 911 a model that has lasted for so long. Its flat engine means less vibration felt in the cabin while the flawless engineering of the suspension and chassis provides a precise feel and handling. You can use it on the track or for your commute as it provides a ton of tech, like Apple CarPlay, and wonderful amenities, like heated and ventilated seats. Getting lost in the driving feel of the sports car is easy, but there are safety features, like blind spot monitoring, so that you can enjoy drives without anxiety. In short, the 2019 Porsche 911 is the most modern luxury sports car in a long line of icons.