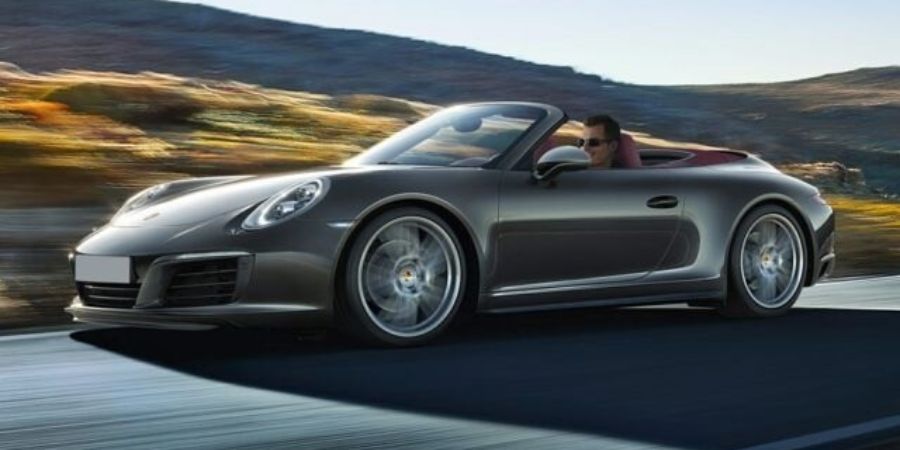 The Diverse Porsche 911 Lineup Gives Phoenix Drivers Plenty of Choice
With over 12 models to choose from, picking the perfect Porsche 911 can be quite a challenge for Scottsdale and Tempe drivers. At Porsche Chandler we aim to make that decision a bit easier by laying out what each model in our new inventory brings to the table. Overall though, you'll always be getting high-performance and well-engineered driving experience that you can enjoy all throughout the Mesa area, and special lease offers let you get into one at a great price.
Porsche 911 Carrera
The Porsche 911 Carrera leads off the lineup of Porsche 911 models with a bang. A big bang. With 379 horsepower coming from a twin-turbocharged boxer six-cylinder engine, there is no doubt that you're already in serious performance car territory. 331 pound-feet of torque get you moving in a hurry, and the water-cooled engine is capable of high levels of performance for hours at a time.
The Porsche 911 Carrera S takes things up a notch with a high-displacement twin-turbo boxer 6 engine, this time producing 443 horsepower and 390 pound-feet of torque to thrill you as you drive.
The Porsche 911 Carrera 4S adds all-wheel drive to the 443-horsepower engine for added control and a balanced drive that will help you hug the curves. Torque vectoring stability control sends power to the outside wheels to help you wrap around the bends and can reduce power when things get a bit out of hand.
For a true grand tourer, choose the Porsche 911 Carerra T. This touring edition of the 911 is built for someone who truly loves driving. A simpler experience awaits - an all-black interior and smooth leather surfaces keep things simple, while a 7-speed manual transmission puts you in complete control.
Inside, all 911 Carrera models are available with a wide range of leather upholstery options, so you can truly customize your interior. Convertible options are available for each if you prefer the open-top driving experience. A high-tech digital instrument cluster gives you a whole new view of your vehicle dynamics, and a central infotainment system keeps you connected to the outside world with a bevy of applications and smartphone connection options.
Porsche 911 Targa
This trio of Porsche 911 models features a glass rear window for a more enclosed experience behind the wheel. This unique setup gives the 911 distinctive styling, and helps keep things a bit quieter even when you have the top down. And the cloth top simply snaps in and out for an easy transition between closed and open cockpit driving.
The Targa 4 uses the same twin-turbo engine of the Carrera to produce 370 horsepower and 331 pound-feet of torque, and the rear-engine layout provides a driving characteristic that is completely unique to the Porsche 911 brand.
Meanwhile the Targa 4S makes use of a 3.0-liter twin-turbocharged boxer engine and cranks out 420 horsepower and 368 pound-feet of torque for your driving pleasure.
Porsche 911 GTS
From here, things truly start to heat up. The 911 GTS uses a 3.0-liter twin-turbo boxer 6 engine that develops 450 horsepower and 405 pound-feet of torque at just 2,150 rpm. The result is a thrilling level of power that is perfect for track days and road trips alike. With a top track speed of up to 192 mph, this is one coupe that doesn't mess around, and with the optional open top version you'll have plenty of wind whipping through your hair.
Porsche 911 Turbo
Turn up the wick with a Porsche 911 Turbo. At 540 horsepower and a 0-60 mph time of just 2.9 seconds, this two-door sports car is on par with the world's fastest supercars. A top track speed of 198 mph means you'll never be left behind, and a leather-clad interior features plenty of comfort for your longer trips.
Meanwhile, the Porsche 911 Turbo S somehow manages to take things even further with a 3.8-liter twin-turbo boxer 6 producing 580 horsepower and 516 pound-feet of torque. With a top track speed of 205 mph and a 0-60 mph time of just 2.8 seconds, thrilling performance is a standard feature.
Porsche 911 GT3
The race-bred Porsche 911 GT3 features several aerodynamic add-ons that help you keep it planted through the corners. While the 500 horsepower is a drop from the Turbo models, you'll hardly notice with a top speed of 198 mph, and the added downforce will make your track days more fun than ever.
Jump into a 911 GT3 RS and you'll have even more race-inspired performance at your control. A roll cage adds stiffness to the body for even more precise handling, and a power boost to 520 horsepower means an even bigger thrill when you kick the throttle.
Porsche 911 GT2 RS
The most powerful Porsche 911 is built straight from the world of racing. A 690-horsepower engine carries you from a standstill to 60 mph in just 2.7 seconds and on an open track you can achieve speeds up to 211 mph. Enhanced aerodynamics increase downforce for optimum handling while also reducing drag to keep you light and fast in a straight line. Ventilation in the front wheel arches assists by reducing turbulence underneath the vehicle, while special brake ducts help keep things cool without adding drag. The result is a hard-nosed racer that can take on any competition, and win.
Visit Our Dealership Today!
No matter which Porsche 911 model you choose, you'll be getting behind the wheel of a high-performance sports car built on generations of winning heritage. Experience the results of this pedigree with a test drive at our Porsche dealership in Chandler today, and learn why the Porsche 911 is one of the worlds preeminent sports cars.
* Although every reasonable effort has been made to ensure the accuracy of the information contained on this site, absolute accuracy cannot be guaranteed. This site, and all information and materials appearing on it, are presented to the user "as is" without warranty of any kind, either express or implied, including but not limited to the implied warranties of merchantability, fitness for a particular purpose, title or non-infringement. All vehicles are subject to prior sale. Price does not include applicable tax, title, and license. Not responsible for typographical errors.